1943
Our next stop was Aruba in the British Antilles to load oil, and then we were bound for New York City. I went ashore at the Brooklyn Navy Yard and reported sick. After returning to the ship to pick up my kit, I was admitted to St. Albans Hospital for recurrence of typhus.
Brooklyn Navy Yard WWII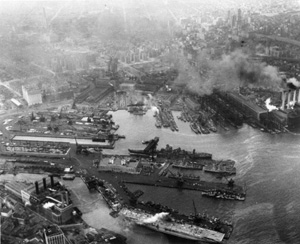 During my several weeks as an "up" patient in the hospital I roamed the wards talking to the patients. Some of them asked me to write letters for them to send home to their wives and mothers. After writing the letters, I read them to the patients for their approval. I received some very nice thank-you letters from their families and was also asked to visit their homes when I got out of hospital. I could not accept, as I had to return to duty.
After release from St. Albans Hospital I checked into the Seamen's Mission at the Battery in lower Manhattan. There I met some merchant seamen I had known in Brazil whose ship had been sunk and they offered to show me around New York.
On St. Patrick's Day, 1943, my friends and I were in an Irish section of New York, and we saw a party in progress. They dared me to crash the party although I was in full British Army uniform! I muttered something to the doorman about coming from London and he introduced me to a friendly group of Irish people from London derry. They made me very welcome. When I did not return to my friends, they came looking for me and also joined the party.
Shortly after this fate took a hand in my life. Two of my friends and I were given free tickets to a British Red Cross dance with free refreshments. Although I did not dance, the free refreshments sounded good as we were always short of cash. My army pay was low and sometimes I went weeks without getting paid. Many of the ports I visited had no British Army office so when at sea I supplemented my pay by working on the ship when possible, cleaning, chipping, painting or whatever was available.
Mary Simons at Pete's Tavern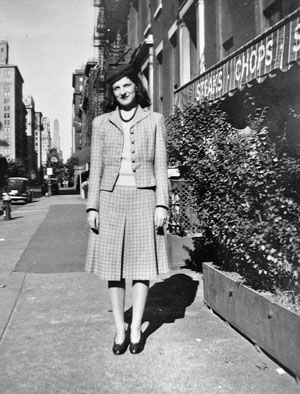 When my friends and I arrived at the dance we noticed three girls who were also strangers. Introducing ourselves, we offered them paper cups of beer from the large pitcher we had been given. My mates danced off with two of the girls, while I sat down to talk with the girl in the red dress. She told me her name was Mary Simons, and when the dance was over I walked her home to Preston House, the girl's club where she lived. On the way we stopped at "Pete's Tavern," on the corner of 18th St. and Gramercy Place, where the famous writer O. Henry used to have a permanent table with his friends. Luckily, Mary refused a second frozen daiquiri, as I had no money for another!
The Queen Mary, A.K.A. The Grey Ghost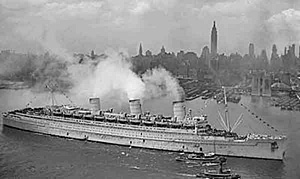 A week later I was assigned as gunner to the Queen Mary, a Cunard liner which played a large role in transporting American troops to Europe. She had been transformed from a British luxury liner of peacetime into a Navy Gray troop carrier, which could move thousands of soldiers and airmen. Her defense was very sophisticated, with heavy guns and equipment for dropping depth charges against U-boats. We arrived in Scapa Flow, Scotland, and the troops disembarked.
The Queen was next boarded by American Air Force crews returning home after their tour of duty. We also carried a full crew of British gunners to re-stock the base in New York. Back in New York I returned to St. Albans Hospital for a check-up for typhus. I had also developed a severe rash, possibly from nerves or allergy. As I had been in the tropics, the doctor put me in isolation, in case it was contagious. One of the medications they tried was penicillin, which was then experimental and very expensive. The rash eventually disappeared by itself.
NEXT: 1944