Getting ready to Ship Out
This was when I was dubbed "Dodger" as a nickname because I was seen slipping down a side street to avoid an unpleasant work duty. This name followed me for years, whenever meeting an old shipmate I would hear "Dodge"! After this training and a brief leave with my family in London, I volunteered for duty with the D.E.M.S.(Defense Equipped Merchant Ships), and reported to Tiger Bay, Cardiff, in Wales, one of forty men. I was the last to volunteer. Tiger Bay was, and still is, one of the toughest ports in the world. Our newly formed group had no officers and were billeted in an empty warehouse where we slept on the floor.
John. F. Osborne in 1940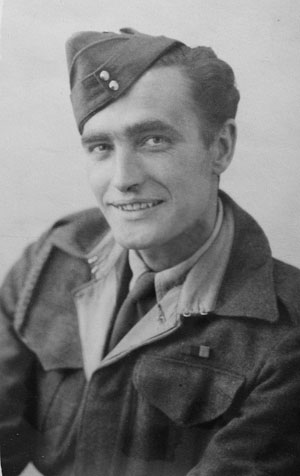 At Tiger Bay we reported to a young naval lieutenant and were issued some Navy equipment – a hammock, sea boots, duffel coat, heavy socks and sweaters to be used on the ships to which we would be assigned. We also kept our Army uniforms and some civilian clothes. We (and fortunately most officers) didn't know wether we were Army or Navy.