1945
In the spring of 1945, the Tibia traveled to Casablanca, North Africa, in convoy. While in convoy we supplied oil to the destroyers at sea near Monrovia, Liberia, by pipeline while still sailing. We would drop the pipeline over the stern and the destroyer would pick it up and we would then pump oil into her. Liberia was the first free African country, settled by freed slaves from America during the nineteenth century.
We returned to Philadelphia, Pennsylvania, in June, the day of the surrender of Germany and Italy.
Mary and John Osborne. England, 1945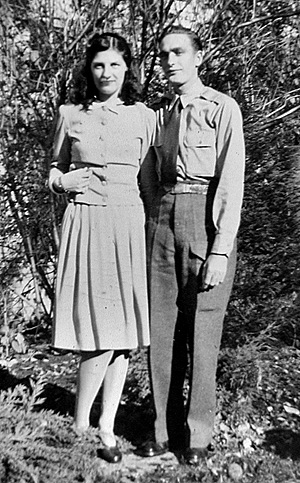 Mary Osborne in 1945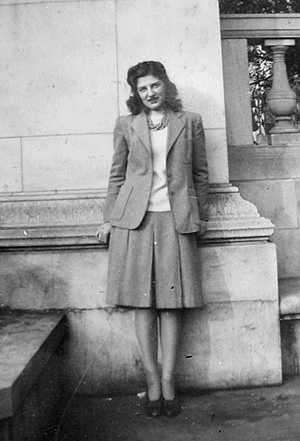 Mary came by train to meet me, but we waited for several hours at different stations. Finally the military police found me and corrected our mistake, and we celebrated VE Day together after all.
The Tibia returned to New York and we were given our orders -"Homeward Bound!" to England. I then reported to Bristol for the last time and went home to London on leave.
While I was on leave in August, Mary flew to England and after my leave was extended for three more days, I reported to Lochwinnoch, Scotland for further orders. The Maritime Royal Artillery was disbanded, as it was a special outfit created only for war duties on shipboard.
I was sent to Germany to join a regiment doing police work. We went out night or day, checking I.Ds, searching for guns or other forbidden items. Some of the places we searched were only one room in bombed-out buildings in which whole families were crowded. I resented doing this type of duty. Then I was transferred to a different regiment in the country where we patrolled the streets.
On Christmas Day, 1945, following Christmas dinner, some of us were walking to our billet down the street. I had two oranges with me and passed a little girl outside her house. I stopped and gave her the oranges but she did not know what they were! Her mother was standing in the doorway and told her it was alright. The other soldiers criticized me and said I should not have done this. I told them I had never had to fight with children and would do the same again to help a child.
NEXT: 1946