1944
John. F. Osborne in 1944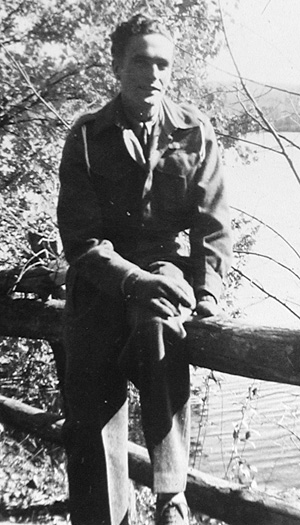 Mary S. Osborne in 1944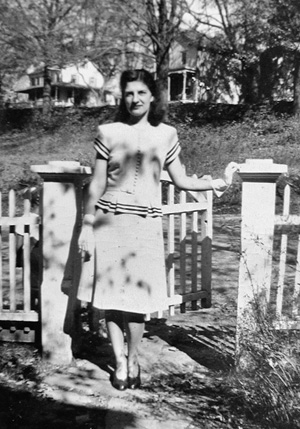 My next ship was the S. S. Samluzon, an oil tanker Liberty Ship being built in Baltimore, Maryland. My new mate was Doubleday, "Dubb" for short, and we served together through 1944 and 1945.
While I was in Baltimore, Mary visited me for a weekend, riding by train from New York.
Dubb and I joined Sgt. Bingham's gun crew of six gunners and a corporal, making eight altogether. It seemed strange meeting Bingham again. In all my travels I never had served with large gun crews. It had always been just me and a mate. Also, it was strange that Sgt. Bingham and I had volunteered together for this job. We were in the same Welsh Regiment and when we started there were no officers or discipline. We were strictly on our own. Sgt. Bingham told me that he and other soldiers I knew were in England when they formed our regiments. These were the experienced men they needed to train new gunners, so they were promoted to sergeant. I was not in England at that time.
In August 1944, the Samluzon sailed to Casablanca. We left there and proceeded through the Straits of Gibraltar, which was now safer for merchant shipping. However, our gunners still slept by their guns while passing Malta. We docked in Naples, Italy, where I had an experience to remember. Our gun crew enjoyed swimming in the warm bay water, and although I could not swim, I was hanging on a rope near the others. Suddenly I lost hold of the rope and sank like a stone. My mates pulled me out and saved my life.
On Honeymoon in South Salem, NY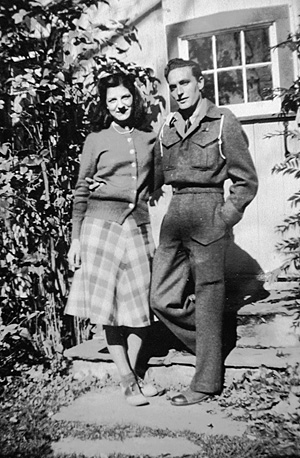 We returned to the States and then headed for Murmansk, USSR. Our ship took a very northerly route through icy waters and the Barents Sea. At night we saw the green Northern Lights play against the sky. After unloading, we returned to New York.
On October 17, 1944, Mary and I were married in Chelsea Presbyterian Church on West 23rd Street. Mary's mother and other members of her family attended. Sgt. Bingham was my best man and my gun crew also came. We spent our honeymoon in South Salem, NY at the Horse and Hounds, an inn.
In the winter of 1944-1945, I was assigned to the S. S. Tibia, another tanker, to Hoboken, NJ, with Dubb and Sgt. Dunn. When we first met Sgt. Dunn, he had just joined our regiment. He was strictly British army, all spit and polish. This was his first trip to sea and we had to show him the ropes. The Tibia was being refitted as a fleet oiler and we were billeted at an old fashioned hotel while waiting.
Mary also stayed at the hotel with me, traveling to work in Manhattan on the Hoboken Ferry.
NEXT: 1945